Get the Add-ons
The following are stable add-ons (virtually all freeware) that work well with Internet Explorer 7 and 8. I wrote some of these, and others are provided by others in the community.
ProxyPick - A quick-switch tool for selecting a different proxy. (IE5+)
UAPick - A quick-switch tool for having IE report a different user-agent string. (IE8+)
X64Button - A simple button which appears in 64bit IE and opens the current page in 32bit IE. (IE6+)
IEToys - A small suite of powerful add-ons for simple tasks like ad removal, dictionary and encyclopedia lookups, etc.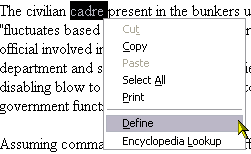 Mouse Gestures - Mouse gestures allow you to use the right-mouse button + movement to trigger complicated actions. For instance, you could define UP + RIGHT to mean "Open in background tab". Or DOWN + RIGHT to mean "Close this page".
The new "Scripting" feature allows you to hook gestures up to custom scripts; I've configured double-right-click to remove unwanted content like images & Flash.

Right-click on this link RemoveImages.js and use Save Target As... to store it as C:\RemoveImages.js. Then, configure the double-right-click gesture to launch the script:
For Web Developers
See Web Developer add-ons.
For RSS Users
Feeds Plus offers notification of new feeds and an aggregated reading view. (IE7 only)
Feed Folder offers a "Live Bookmarks" style view of feed items from your Favorites menu. (IE7 only. IE8 has a similar feature built-in).
Other Add-ons
The old IE5 PowerTweaks offer a way to add a site to the Trusted Zone or the Restricted Zone directly from the tools menu.